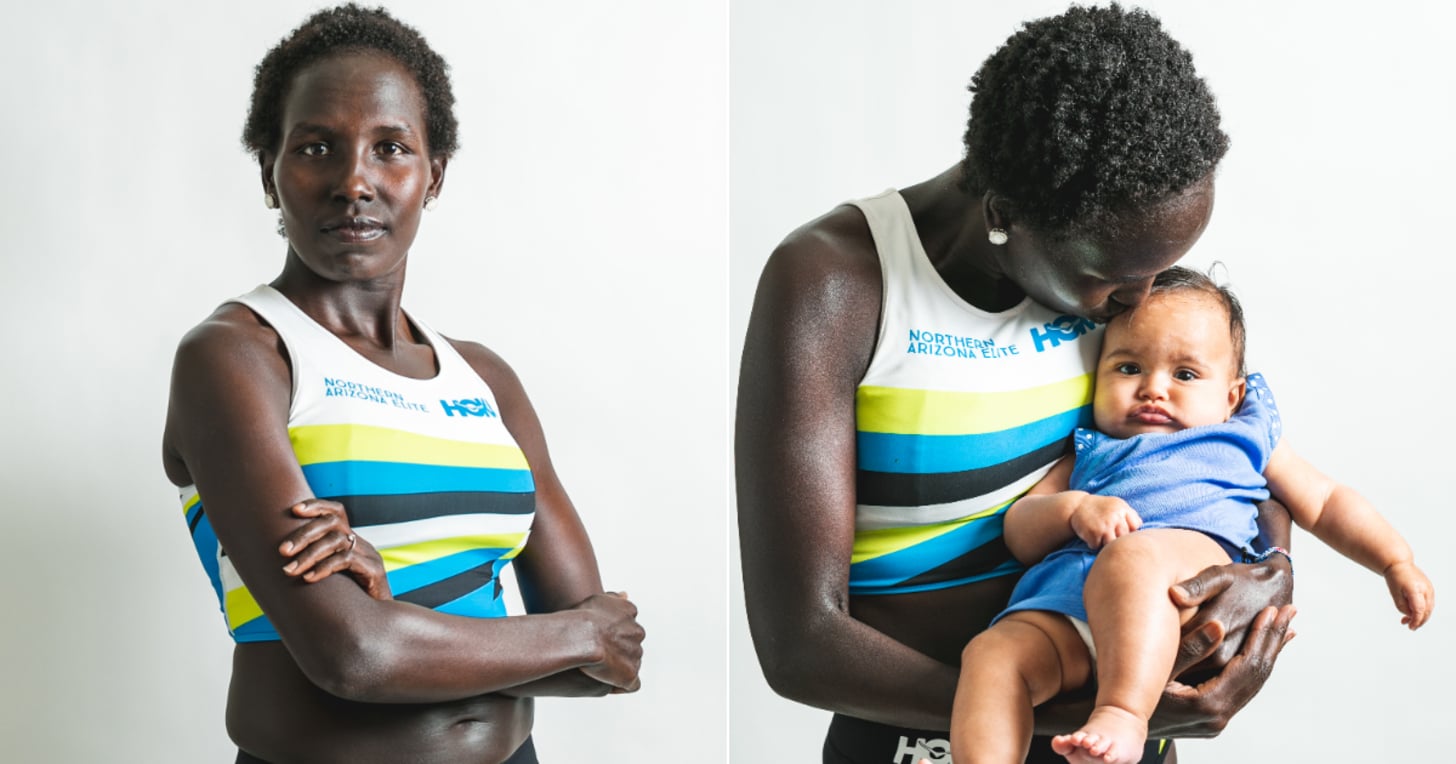 According to Tokyo Games-bound long-distance runner Aliphine Tuliamuk, nothing is harder than 50 hours of labor – not one of the 26.2-mile races she has ever completed. "At least I know where the finish line is during a marathon," she told POPSUGAR via email. Tuliamuk, whose daughter Zoe was born in January, requested that her baby accompany her to Sapporo, Japan, for the Olympic marathon event, but was initially denied. Until recently, breastfeeding athletes were not allowed to bring their children to the Olympics. The organizing committee reversed their position on breastfeeding babies who attended the games on June 30; However, Tuliamuk has not officially confirmed that partner Tim Gannon and Zoe will take the trip. In theory, though, that's good news.
Tuliamuk, who won the U.S. Olympic marathon trials last year in Atlanta with a time of 2:27:23 compared to her personal record of 2:26:50, told POPSUGAR that she feels a new strength from motherhood that is "hard to put into words" "She added that she's sure other parents know what she's talking about.
Zoe's middle name, Cherotich, which means "the cows come home after grazing" in Pokot, is an ode to Tuliamuk's Kenyan roots. Tuliamuk grew up as one of 32 siblings in the village of Posoy. She left home comfort to run tracks at Iowa State University before moving to Wichita State University and graduating with a degree in public health science. This made her the first woman from her village to receive a university degree, and she said the COVID-19 pandemic reinforced her plan to go to nursing school in the future.

"I was very aggressive as a younger runner. The only thought that went through my mind was to run faster than everyone else," the 32-year-old said. However, she believes that the marathon event has matured her approach to running, which means that she primarily runs towards the track, and as the race progresses, only then does she begin to focus on her competitors.
Tuliamuk, a member of the NAZ Elite training group sponsored by Hoka One One, looked up to Kenya's Tegla Loroupe, the first African woman to win a major marathon when she was a junior runner. Since becoming a pro in 2013, Tuliamuk has adored Eritrean-born American marathons and Olympic Meb Keflezighi. She also admires athletes Alysia Montaño, Kara Goucher, Allyson Felix and NAZ Elite teammates Stephanie Bruce and Kellyn Taylor – they are all mothers.
Tuliamuk said that when it's in Sapporo, "it will be because Hoka believed in me and because my teammates embraced me and were committed to my success." On her way into the Olympics, she continues to increase her mileage and incorporate weightlifting sessions. She gets into tougher training programs and said that coach Ben Rosario is flexible and "creative" and constantly adapts his training. She just competed in the Peachtree Road Race on July 4th, finishing in sixth place.
As one of the first black women to represent the United States in the Olympic marathon – the second is the third place of the Olympic trials, Sally Kipyego – Tuliamuk said, "I hope I can serve as a positive example, and it is an honor to be seen as a role model. "She further told NBC Sports On her grass in April, "You can not strive for something that you can not see. There are many black girls who probably watch the Olympics, but they see 100 meters and the field events, because this is where they see black athletes. But in marathons, they have never seen a black person do it [while] represents the United States. "She added," Now that Sally and I are going, hopefully these kids can look at us too and start dreaming. "
To learn more about all the Olympic hopefuls, visit TeamUSA.org. The Tokyo Olympics begin July 23 on NBC.
Image source: NAZ Elite