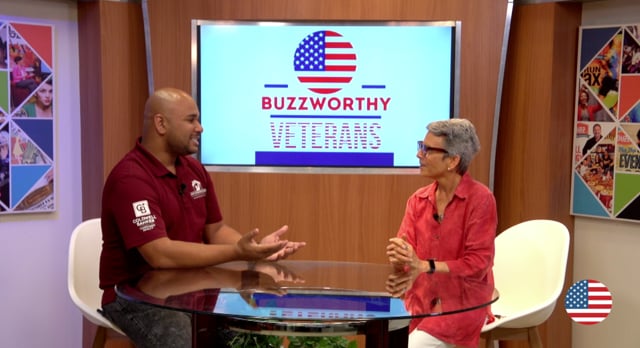 .
Each week, our host, Ant Stroud, speaks about "Buzzworthy Veterans" with veterans who have done Buzzworthy things in the community. This week, Ant sits down with Lisa Evers from Holistic Holdings.

Holistic Holdings is an inclusive healthcare company focused on training healthcare providers and clients to unlock the hidden secrets of pain.
For more information, please visit https://www.nursesempoweringhealth.com
Brief company description: We see pain as a messenger, NOT an enemy! Instead of just suppressing the symptoms, we try to listen again … to "FEEL … forgive and let go" the trapped sensations. We do this with decades of experience in nursing and integrative health and use a new tool, "Comfort Quest". This transformative, hopeful lens makes True Comfort our goal (10/10 on the scale) as every client learns to thrive and improve their quality of life rather than becoming another statistic on overdosing.
What branch of the ministry are you or have you been in and for how long ?: US Coast Guard (AD & Reserve) 32 years total; Retired in 2012 (CWO4).
What is or was your job in the military ?: Hospital Corpsman originally (1980) … After reaching the Senior Chief (E8) rate, he accepted the appointment of Warrant Officer (Medical Admin).
Why do you think it is important for people to know your business is a veteran business ?: Mainly because I want to work with other veterans and support them in their work … and help heal stubborn wounds that I still have …
What was your biggest fight in leaving the service ?: The challenge of whether to work FT or PT as an RN. I chose the PT route which allowed time / space to explore and build my business.
What veteran resources did you find that helped you overcome this struggle ?: I have been VERY grateful for the VA health care I have received since leaving AD in 2012. This allowed me to choose PT (instead of being forced to do FT for healthcare services).
Brief description of what you would like to discuss on the show: How can we empower our veterans who may be struggling with pain (on any level – body, mind, or spirit) … Instead of suppressing the body's messages, we need to listen and learn to thrive!
Read More Now