SUTHERLAND – Tim Aberson literally has patients' backs when it comes to relieving their pain.
The 54-year-old Paullina man recently opened a chiropractic clinic in Sutherland at 108 West Second St. and began seeing patients on July 7th.
"I just saw a need," Aberson said. "You haven't had a chiropractor in two and a half years, so we only saw one need and want to serve the community. This is more convenient so that some people don't have to drive. "

The clinic is the second Aberson opened this year through Aberson Consulting: Chiropractic Care. The first, which was launched in January, is located at 307 Center St. S. in Paullina.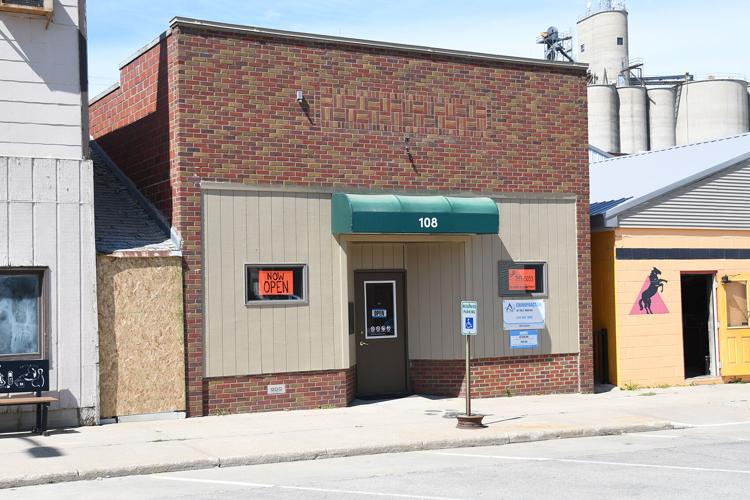 Aberson Consulting: Chiropractic Care opened a clinic in downtown Sutherland at 108 West Second St. The clinic is a satellite of Sibley Family & Sports Chiropractic & Acupuncture and offers comprehensive care for patients of all ages.

Randy Paulson rpaulson@nwestiowa.com
Aberson has 25 years of chiropractic experience. He graduated from Northwestern College in Orange City in 1989, where he majored in biology and studied sports. He then attended the Palmer College of Chiropractic in Davenport.
He practiced as a chiropractor in Paullina until he took a break from his job in 2014 to pursue various management endeavors.
"I just had a lot of free time and people coming back to my chiropractic services," Aberson said. "So I was just starting to see patients again and one thing led to another and I had a new passion for the job and treating and helping people."
He works in the Paullina Clinic on Mondays, Wednesdays and Fridays from 8 a.m. to 6 p.m. and is in Sutherland at the same times on Tuesdays and Thursdays.
The response since each clinic opened has been positive for Aberson, who said the business was stable.
"It's only grown exponentially since we started," he said.
Aberson conducts consultations with first-time patients to determine the best approach to managing their pain, taking into account factors such as their medical history and their pain symptoms.
"Everyone is different, everyone has different problems, but we're helping a number of problems," he said.
These include problems along the patient's spine, as well as on the elbows, wrists, knees, and feet.
The consultations usually last 30 to 45 minutes, while regular chiropractic sessions can last between 15 and 30 minutes.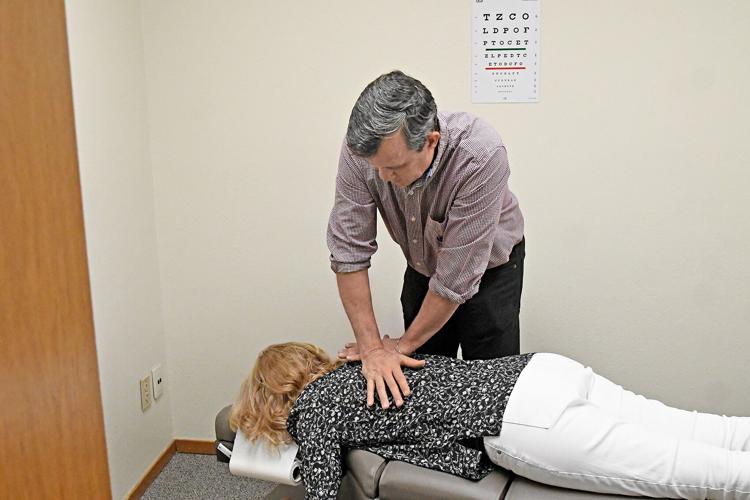 Paullina's Tim Aberson puts his palms back on his wife Michelle during a chiropractic session at his clinic in Sutherland. The clinic at 108 West Second St. opened on July 7th.

Randy Paulson rpaulson@nwestiowa.com
Aberson's clinics in Paullina and Sutherland are satellite locations of Sibley Family & Sports Chiropractic & Acupuncture and George Chiropractic, which are owned by Brian Sayler.
"When I decided to get back to it, I really didn't want to do the billing and take new software and notes," Aberson said.
"So I approached him – and he already had a satellite clinic in George – and said, 'Can we just run this as a satellite clinic, do online billing through Sibley, and hook up to your electronic note-taking system?' and he said, "Absolutely."
Aberson lives in Paullina with his wife Michelle. They have two children: Ben, who goes to Northwestern College, and Kaitlyn, who teaches English in Des Moines.
This story was first printed in the July 18 issue of The South O'Brien Sun.