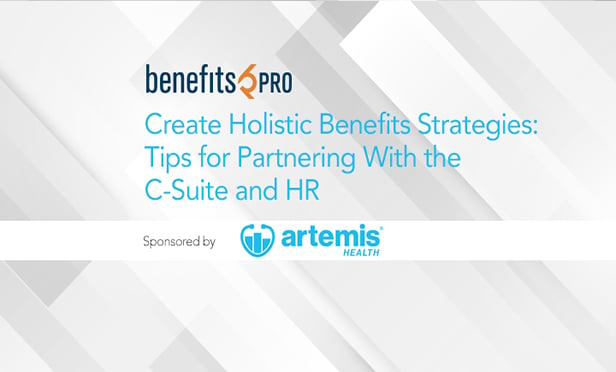 In this episode of the Perspectives podcast sponsored by Artemis Health and hosted on BenefitsPRO, we hear highlights from the April 14 presentation entitled "Creating Holistic Performance Strategies: Tips for Partnering with the C-Suite and HR".
As organizations change the way they view performance in the light of the past year, CFOs and other members of the C-suite will continue to be more involved in performance decision-making. This emerging trend is good news for consultants willing to take advantage of it. Working with more decision makers provides opportunities for education and innovation, but it also requires data and visibility to generate buy-in and create more effective plans.

The panelists – – Steve Watson, CFO & CHRO at Trendbreakers; Kim Eckelbarger, founder of Tropical Benefits; James Froschmayer, director of product analysis at Artemis Health; and Paul Wilson, Editor-in-Chief of BenefitsPro – – Discuss why companies with a more engaged C-suite tend to be more progressive in managing their performance plans, how you can use performance analysis to identify opportunities, and more.
The full on-demand webcast can be found here: https://www.benefitspro.com/2021/03/10/partnering-with-the-c-suite-and-hr-to-create-holistic-benefits-strategies/
Steve Watson, CPA, SHRM-SCP | CFO & CHRO | Trend breaker
Steve Watson comes from a diverse background and has many titles that can be named after his name – CEO, CFO, CHRO, and CPA. It might be intimidating by the time you meet him. Instead of riding the wave and looking for increasingly important positions, Steve looks for ways to give something back. He grew up on a sheep farm in Utah, graduated from BYU with a degree in Business and International Finance, got married, worked in accounting, and moved to Brazil at the age of 26 to accept a position as finance director for a publicly traded company.
Five years later, in 2009, he moved his growing family back to the United States and took on a position as CFO of a medium-sized social work company in Phoenix, Arizona. It wasn't long before they asked him to take on the role of Chief Human Resources Officer (CHRO).
All of the different titles he carries could be confusing, but Steve has found a unique way to put them all together and complement each other. This is especially true of his role as CEO of TrendBreakers, a consulting firm where his vast knowledge and skills come together to help other companies break the trend of rising healthcare costs. He is also a nationally known spokesperson, hosts a podcast three times a week, is married, has seven children, and is bilingual in Portuguese.
Kim Eckelbarger | Founder | Tropical benefits
Kim participated in the NextGen Benefits Mastermind Partnership and Health Rosetta and is the founder and president of Tropical Benefits in Tampa / St. Petersburg region. It was featured in Employee Benefit Adviser (EBA) magazine and was the cover story in its August 2018 issue. Kim was named "NextGen Benefits Adviser of the Year" at the 2019 ASCEND conference. Kim has been invited to share expertise at prestigious industry conferences including the Workplace Benefits Conference, BenefitsPRO Broker Expo and the 2019 World Health Care Congress.
Kim is the co-author of Amazon's bestseller Breaking Through the Status Quo, which describes some of the latest strategies she and other NextGen Benefits Advisers are using to control and reduce healthcare costs. She embraced innovative strategies early on, including overseas healthcare, direct primary care, second opinions, and RBP, and has implemented these employer solutions with successful results. Their clients' results have been published in industry-specific publications and the results are achieved with data and transparency.
James Froschmayer | Product Analysis Director | Artemis health
As Director of Product Analytics, James Froschmayer works with experts in product management, user experience, and health analysis to meet the needs of today's performance teams and anticipate their needs in the future. James is responsible for developing the most advanced analytical methods embedded in the Artemis reporting system. He also performs analysis and assists clients in implementing their integrated health, attendance and disability management programs.
James comes from the consulting world and has seen the landscape of employee benefits become more complex. As an analyst, he helps self-insured employers identify opportunities in their data to manage costs, improve program value, and improve employee health and wellbeing. James is passionate about and committed to using industry best practices and technology to improve the health system from the perspective of both patients and providers and payers.
Paul Wilson | Editor-in-chief | BenefitPro | Webcast moderator
Paul Wilson is the Editor-in-Chief of BenefitsPRO Magazine and BenefitsPRO.com. He has worked in the insurance industry for more than a decade, including at Retirement Advisor Magazine and ProducersWeb.
Read More Now