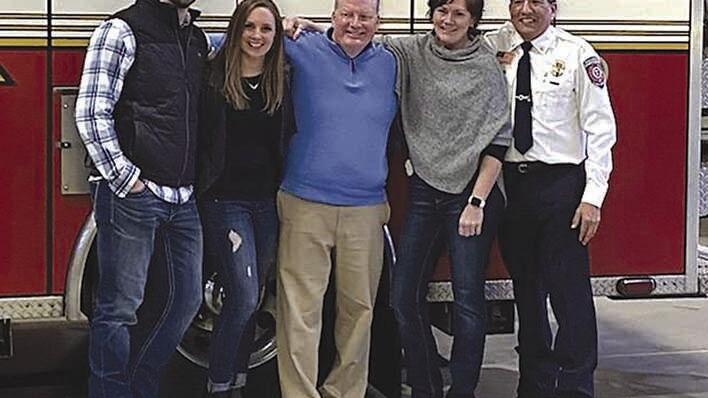 Emily Roeder stepped into action when the former Richfield fire chief had a second heart attack within two months
Wayne Kewitsch and his wife Ruth were driving north on Highway 169 on August 21, expecting a relaxing weekend at a friend's cabin.
Ramsey's Emily and Matt Roeder did the same thing that day but ran later than expected.

The couples didn't know each other, but if the Roeders hadn't slept, hadn't stopped for groceries on the way north, hadn't taken the time that morning, the foursome would never have met and Wayne Kewitsch might not be alive today.
That's because the Roeders' swift actions at the end of the day had saved Kewitsch's life.
"We were on our way north to a friend's cabin in Cross Lake," said Kewitsch, who recently retired as boss.
He drove and felt good because he had survived a heart attack a month earlier when he had an 80% blockage of the left anterior descending coronary artery – also known as the "widowmaker".
"Everything turned gray," said Kewitsch about the beginning of his second heart attack. Ruth looked over and saw me faint. She was there for my first heart so she had a good idea what was going on. She grabbed the steering wheel, said a prayer, and pulled us off Highway 169 … and threw us 40 yards into a cattail sump. "
Little did they know Emily Roeder and her husband Matt were behind them when they went into the ditch.
"We were driving around Lake Mille Lacs and I noticed that the car in front of us kind of turned on its shoulder and then came back into lane. I said, 'Honey, look at the car in front of you, I think they might text them or something,' 'said Emily Roeder. "A few moments later we saw the car drive to the right. It crossed a street, took a little breath, and went straight into the swamp.
Roeder told her husband they had to stop as it "looked like they had an emergency".
She continued, "My heart was racing and before he even stopped the car, I got out and told him to call 911 while I ran into the swamp."
Roeder made his way to the car and stood "knee-deep in the dirt". She told Ruth Kewitsch that she was a nurse and wanted to help.
When they opened the door, the nurse saw Wayne Kewitsch slump in the driver's seat.
"I tried to wake him up and I couldn't feel a pulse," said Roeder. "I knew he needed chest compressions and needed them right away. When doing chest compressions, you need a nice hard surface. We couldn't drag him into the swamp because it wouldn't help, so I put his seat back as far as possible and started doing chest compressions right there in his car. "
Roeder knew she needed a defibrillator, but the compressions were all she could offer for a few minutes.
An officer from the Mille Lacs Sheriff's Department arrived but did not have an AED. A few minutes later, Mille Lacs band from Ojibwe Emergency Management Coordinator Monte Fronk arrived with an AED that was used immediately.
It took several shocks for a pulse to recover. Kewitsch remembers sticking an IV line in his leg.
"I screamed when they did this and I remember Ruth saying, 'Pain is good. Stay with us, "he said. "I passed out again, but I still had a pulse."
Then, with the help of Matt Roeder, the officers got Kewitsch out of the car onto a backboard that they wanted to carry out of the swamp.
When Kewitsch was loaded into the ambulance for transport, Roeder and Ruth Kewitsch shared a moment.
"I gave her a big hug … I told her we would continue to pray for her and her husband and we would be happy to be her guardian angels that day," said Roeder.
But Kevich's day was not over yet.
He was rushed to Onamia hospital, where "a North Air Care helicopter was waiting and turning and ready to go," he said.
Kewitsch was flown to the University of Minnesota, where he received treatment for the next four days.
Although his doctors weren't sure what had caused his second heart attack, they suspected that it had something to do with the electrical impulses from his heart. A cardio defibrillator was implanted. Kewitsch said the defibrillator should get his heart back into rhythm if another incident occurred.
After that first heart attack, Kewitsch looked forward to going back to work. Fighting fires was his life.
He began his career with the fire department in 1996 as an on-call firefighter for the city of St. Louis Park. He joined the Richfield Fire Department in 2000, eventually assuming the roles of lieutenant and assistant fire chief before being promoted to chief in 2011.
Even though he was undergoing cardiac therapy and had lost some weight, all thoughts of getting back to his job as Richfield Fire Chief ended with the second incident. To be a fire chief he has to be certified as a firefighter and with his condition that wasn't possible.
Kewitsch made the difficult decision to retire as boss. However, he joined the Minnesota Firefighter Initiative (MnFIRE) as part-time executive director in January and plans to continue in that position.
For the Roeders and their dog Bryn, the rest of the fateful weekend went as planned, although they arrived later than expected.
"Shortly before the situation, we contacted cousins ​​and told them that we would be there in 30 minutes. When we got there more than two hours later, we were covered in mud, "recalled Emily Roeder.
HEROIC MEASURES RECOGNIZED
The Kewitsches and Roeders met again about a month after the incident. And earlier this month, the fast-acting nurse was honored for her good work when she received the Meritorious Citizenship Award from the Minnesota State Patrol.
"As a registered nurse, she knew what to do," said Colonel Matt Langer when he announced Roeder's award during a recent virtual program. "Given the remote location of the crash, it is unlikely that the driver would have survived if Emily had not acted quickly – in which case saved the life of a fire chief," he added.
"I am an incredibly happy person, and yes, I am extremely grateful," said Kewitsch. "Been a firefighter for 25 years – I was a paramedic in college and you just don't see people who survive cardiac arrests like this and are also neurologically intact. If Emily hadn't stopped, I probably wouldn't be here. "
Kewitsch also advised. "I encourage everyone to learn how to do CPR. Be an emily Do not hesitate to help others. "
He said the Richfield Fire Department would resume offering free hands-only CPR classes after the pandemic ended. He said the University of Minnesota also offers free online CPR courses for hands only.
"For the layman, having clean hands makes a big difference in survival," said Kewitsch.
Roeder believes that the coincidental timing of her and her husband that day was no coincidence.
"God had a plan for us that day. It's amazing how things work. We were fortunate enough to be able to help them at such a scary time and achieve such a great result. You hope you are never in these situations, but I am very happy that I knew what to do and was able to help in the way I could, "said Roeder.
The Minnesota State Patrol Meritorious Citizenship Award, including the award for Emily Roeder, is available at trimurl.co/7QI3hA.