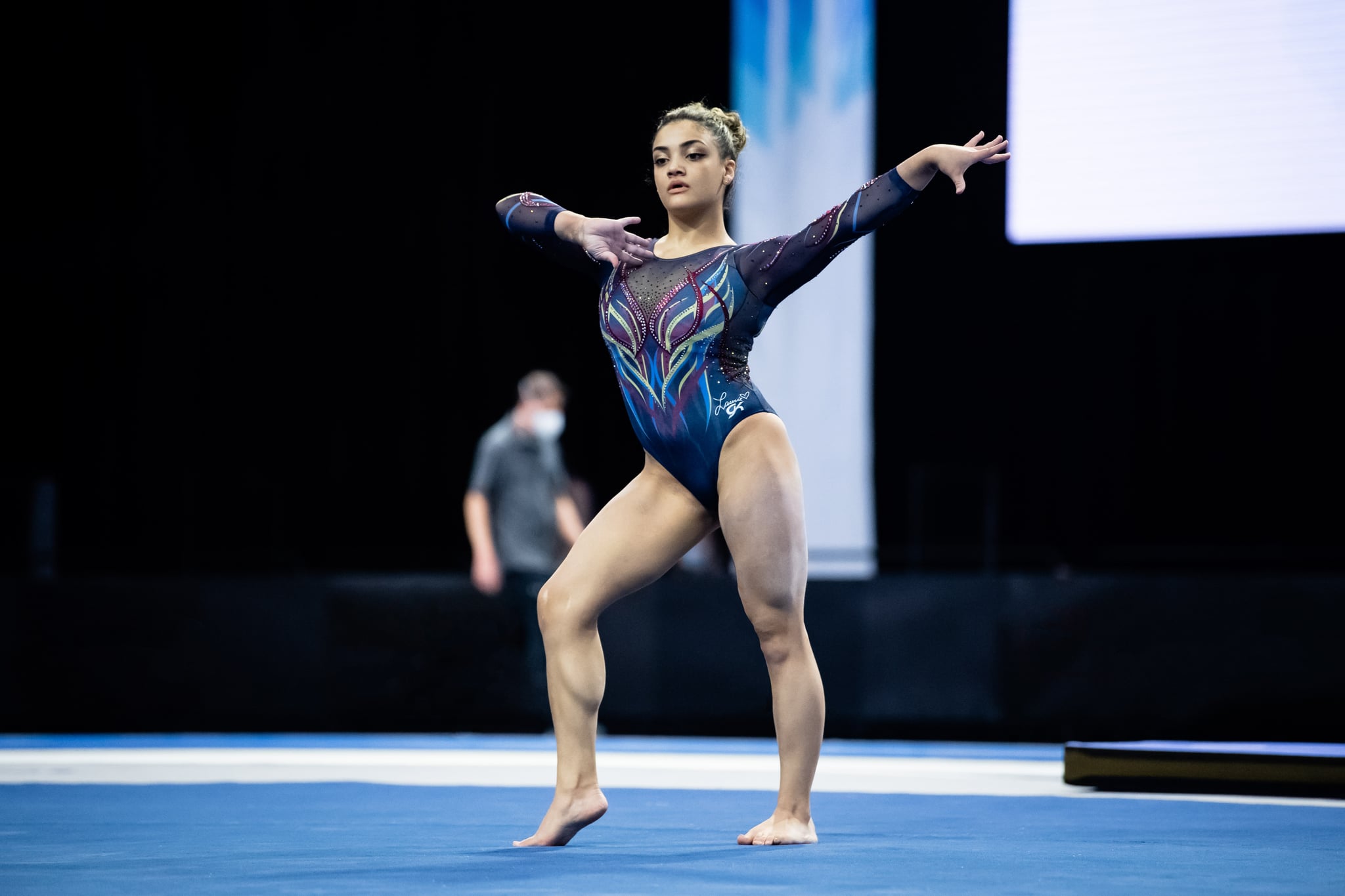 When Laurie Hernandez walked on the floor at the 2021 Winter Cup (in a Captain Marvel jersey, no less) it was the first time she had competed in over four years. She has come a long way since winning team gold and an individual silver medal to shine at the Olympics in Rio as a teenager. Now 20, she says she has grown as a person. "I'm honestly just winging it like everyone else," Hernandez told POPSUGAR, laughing, though she added that she has seriously matured. She is more realistic about, well, everything, and in terms of her sport, she learned to embrace her nerves and rely on her expertise. So the scene is ready: Her focus is on earning a ticket to the Tokyo Summer Games.
"The pandemic certainly shook things up a bit," Hernandez said. "When you train for something as big as the Olympics, it's not really something that happens on a whim. It happens with a lot of time taking it into account, knowing that you'll have to be ready to try and be the best. in the world and trying to be the best in your country, and it's really hard. "Going back in a groove after thawed COVID-19 restrictions was discouraging, she admitted, but there was a silver lining to the postponement. of the Games: she was able to work on upgrades to her routines and getting ready for the 2021 competition season ahead of Tokyo.
Hernandez currently trains six days a week, four to four and a half hours a day, at Gym-Max, California. All international competitions for her have been canceled, but she plans to compete in the United States meet before the Olympic trials. These will include May's GK US Classic and nationals in early June, a few weeks before trials. Although she "extracted" her routines at the Winter Cup, as it was her first encounter in a while (for example, she did not make nearly as difficult with one last tumbling pass on the floor), she noted that we can expect full performances at her next competitions.

Hernandez is known for her audience-pleasing performances, and she actually choreographed the floor routine, which she debuted at the Winter Cup, which featured music inspired by Hamilton. Her only other event at this competition was ray, but her skills at bars and vaulting, she said, come along as well. She recently went to a national team training camp in Indiana and did all-around in an internal competition (they are typically called "mock meets"), and she is excited to continue to perfect more challenging skills, especially at bars. "I think everyone will be surprised with what we are referring to this year," she said.
When asked about her pre-contest rituals, Hernandez said she typically does not have a strict preference for the day of preparation (although she likes to listen to "chill" music like Fleetwood Mac before a meeting and then switch to something powerful, namely Black Panther soundtrack). And when it comes to recovery, she's addicted to Hyperice products (her favorites are Hypervolt Go and Venom for her back).
However, Hernandez created a superstition of some sort by accident prior to the Winter Cup, she confessed and laughed again (she really is such a vibrant personality over the phone!). A friend gave her a candle, which she burned before training up for the competition. The training all went well, she said, so she decided to burn it again before the Winter Cup in case. See and see, the meeting also went well (although we both agreed that she should give herself and her training more credit).
"I'm a very competitive person," Hernandez said of his Olympic goals. There are four places available on the U.S. Women's Olympic Gymnastics Team and two individual places: one will go to Jade Carey if she wants to, and although she still needs to qualify, Simone Biles is pretty much a shoe-in for a team placement.
Aside from aiming to join people like Aly Raisman, Gabby Douglas, Kerri Strug and Shannon Miller in achieving two Olympic appearances, Hernandez wants to be able to go out and show that she can compete with the best in country while she has reached a greater balance in balance (prioritizes her mental health, spends time with loved ones and performs fewer hours of exercise compared to when she was younger). "I kind of gave [it] all when I was 16, "she said of gymnastics. Now with the same passion and work ethic, she also learned to focus on other aspects of her life.
"I'm really excited to see what my gymnastics looks like this summer," Hernandez said. "Of course the Winter Cup was so much fun, but again, they were watered down routines, so to be able to fully show what we've been working on, and to do these upgrades, I would very much like to compare it to when I was 16 and see if I go higher. "
Image source: Greetings from Hyperice