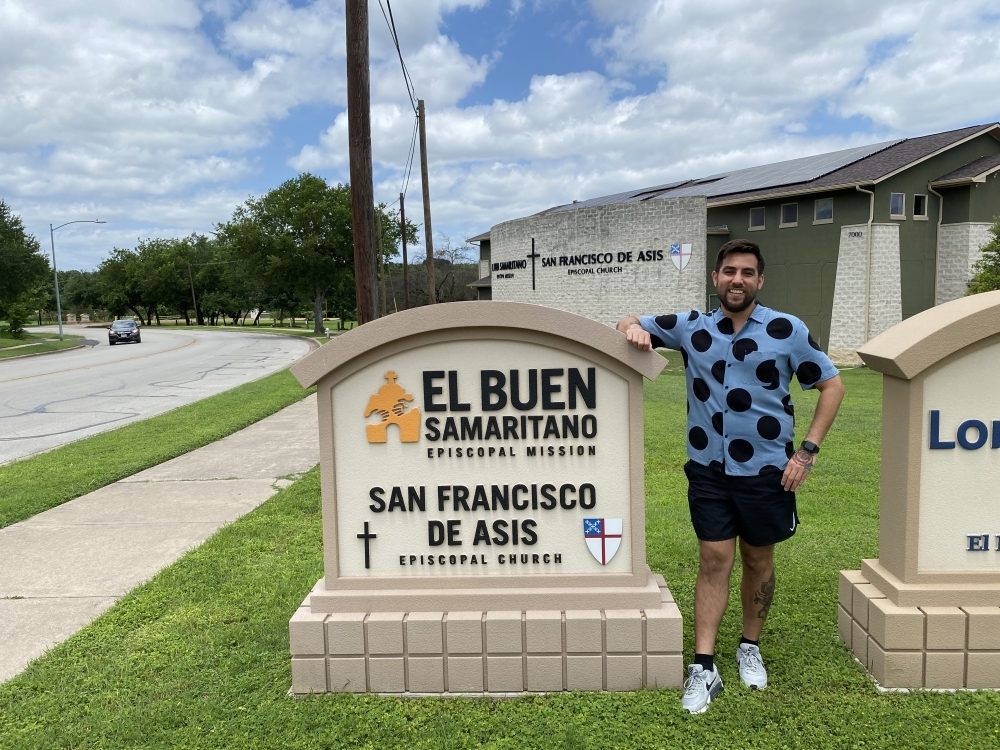 David Bustamente is a senior project manager at El Buen Samaritano, a nonprofit that provides education, health care access, financial assistance and more with a focus on the Latin American and Spanish speaking communities. (Trent Thompson / Community Impact Newspaper)
David Bustamante, Senior Project Manager at the charitable organization El Buen Samaritano in South Austin, came into his field because of his father, among other things.
Bustamante's father, a retired veteran who served for 20 years, grew up in an orphanage with no access to basic necessities and was exposed to structural racism throughout his life, Bustamante said. His father's experience is part of what led Bustamante to pursue a career in healthcare and work to break the chain of generations of inequality in Austin and central Texas.

"In a way, it's me to give back and hopefully inspire others to give back in a similar way," said Bustamante.
El Buen Samaritano – which translates as "The Good Samaritan" – has been in the Austin Ward since 1987 when the Episcopal Diocese of Texas founded the non-profit organization to support Latino families in the area. El Buen began providing food, clothing, and literacy classes. Today his mission has evolved.
El Buen addresses its customers' challenges through a social justice framework, working to improve the factors of a social environment that affect health and to reduce the inequalities that affect the well-being of the communities that the nonprofit serves.
One strategy El Buen uses to accomplish its mission is through financial aid programs. From March 2020 to March 2021, the nonprofit completed eight grant programs and is working on five more. To date, the company has been able to distribute a total of more than $ 6 million to households and individuals affected by the effects of COVID-19 and the February winter storm in the form of Visa gift cards to help families recover from the winter storm, rental convenience , Moving assistance, assistance with moving or storage costs and more.
Bustamante said when the pandemic brought Austin to a standstill, El Buen not only needed to quickly figure out how to adjust its service model, but also learn to provide immediate emergency services.
"We were all down in our lobby and figured out a way to deliver our most important service, our pantry, through a drive-thru service model," said Bustamante. "Since then we have applied this model to almost all of our services."
Applications are still open for El Buen's rental support programs and tenant stabilization programs. While El Buen focuses on the Latin American and Spanish-speaking communities, the resources are available to all. Bustamante said that El Buen has a value that ties all of its services together.
"One big thing that stands out in all of this is what we stand up for and recognize the dignity of all," said Bustamante. "We're not trying to judge anyone or contribute to their loss of self-esteem or more pain."
Identifying himself as someone who is part of the LGBTQ + community, Bustamante said his family's acceptance was an important part of his quest to work in health and wellness.
"Often times, especially in the Latino community, we see a lot of families who may not understand LGBTQ + people and their families. Something I really like about El Buen is that through our work we strive to create an environment where not only Latino families are welcome, but all families and individuals, "he said.
Read More Now