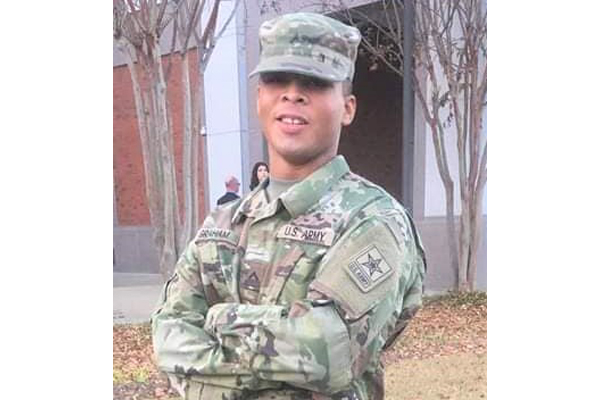 Two soldiers from 1st Armored Division died in vehicle accidents outside of Fort Bliss, Texas over the weekend.
Spc. Kenmaj D. Graham was out and about in El Paso, Texas, early Sunday morning when an oncoming vehicle hit the 21-year-old cavalry scout, a Fort Bliss press release revealed on Monday. He was taken to a local hospital where he was pronounced dead.
Sgt. 1st Class Dejaun K. Frazier died on Saturday in a motorcycle accident in El Paso. He was pronounced dead by a medical examiner in El Paso.

Continue reading: Capitol closed briefly, inauguration rehearsal evacuated after homeless campfire
The El Paso Police Department responded to both incidents as they are responsible, according to the press release.
Graham, a native of Wichita, Kansas, joined the Army in July 2017. He arrived at Fort Bliss in December 2017 after completing basic combat training and advanced one-on-one training in Fort Benning, Georgia. He was assigned to the 2nd Squadron, the 3rd Tank Brigade Combat Team, according to the publication.
"The Bulldog family mourns this young man. We extend our deepest condolences and prayers to his family and their loved ones," said Colonel Jabari Miller, commander of the 3rd ABCT, on the release. "Spc. Graham was a valued member of the Bulldog Team, a cavalry scout with a bright future in the US Army. He will be missing."
Graham's awards and accolades include the Army Commendation Medal, Army Achievement Medal, National Defense Medal, Global War on Terrorism Service Medal, Korea Defense Service Medal, Army Service Ribbon, and Overseas Service Ribbon.
Frazier, 43, was from Tallahassee, Florida and previously served in the Marine Corps. He joined the army in February 2011 as chief of the telecommunications department. He arrived at Fort Bliss in November 2018 after serving as an Army instructor in Fort Gordon, Georgia and as a division chief in Fort Bragg, North Carolina.
"The 1st Armored Division G6 team is saddened by the tragic loss of Sgt. First Class Frazier. … Frazier served as a signal train sergeant and was a battle-hardened leader who looked after his soldiers." Lt. Col. Michael Wacker, deputy chief of staff of 1AD, G6, said in the press release. "His legacy of coaching and mentoring his platoon will never be forgotten. The 1AD G6 team extends our condolences to their family and friends, and our thoughts and prayers go with them at this difficult time."
Frazier completed the US Army's Senior Leaders Course in 2018 and had the additional Skill Identifier 8R, Master Resilience Trainer.
Frazier's awards and accolades include the Army Commendation Medal (3), Army Achievement Medal, Navy & Marine Corps Achievement Medal, Combat Action Ribbon, Army Good Conduct Medal (3), Marine Corps Good Conduct Medal, the Navy Expeditionary Ribbon and the National Defense Service Medal, Expedition Medal of the Armed Forces, Navy Expedition Medal, Afghanistan Campaign Medal, Iraq Campaign Medal, Expedition Medal for the Global War on Terrorism, Medal for the Global War on Terrorism, NCO's Ribbon for Professional Development ( 3), Navy Sea Service Deployment Ribbon, Marine & Marine Corps Overseas Service Ribbon, NATO Medal, Presidential Unit (Navy) Quote, Naval Unit Quote, and Driver and Mechanic Badges.
Another 1st Armored Division soldier – Staff Sgt. John DS Bailey – died in his post office on Thursday. The army is investigating the circumstances surrounding Bailey's death.
– Matthew Cox can be reached at matthew.cox@military.com.
connected: Army ID's 1st Armored Division Staff Sergeant found dead at Fort Bliss Home
Read complete message
© Copyright 2021 Military.com. All rights reserved. This material may not be published, broadcast, rewritten, or redistributed.