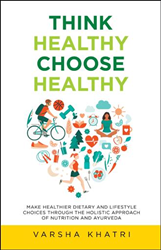 Eating healthy and living healthy is ultimately about what works for you, and my book will help readers find that balance.
LONDON (PRWEB)
May 18, 2021
Varsha Khatri has been passionate about holistic health and the value of health education since she was a student and wanted to share her experience by combining the knowledge of Ayurveda with the science of nutrition to facilitate healthy living. For this reason, she wrote "Think Healthy, Choose Healthy: Choosing a Healthier Diet and Lifestyle through the Holistic Approach of Diet and Ayurveda" (published by Balboa Press), a book that shares a holistic approach to improving overall health and wellbeing through diet, yoga and Ayurvedic principles.

This book presents a practical approach to healthy living that doesn't require extreme measures. Rather, it guides readers through creating their ideal wellness plan and making healthier choices in this unhealthy world. Here, Katri's unique approach is laid out in a simple way to simplify healthy living and to make it clear that healthy living is about finding the right balance. It's not an all-or-nothing approach.
This book covers the main areas of holistic healthy living such as diet, sleep, exercise, and self-care, but also looks at the importance of digestion and the immune system. By the end of the book, readers will have created a plan that works for their own body type, using the concept of the three doshas in Ayurveda as a foundation on which to build so that they can continue to make practically healthier choices.
"In a world where there is a diet for everything and a lot of false information from people who are not qualified, my book offers a new perspective and simplifies the fact that healthy living does not have to be complex and you do not have to do anything because everyone else do it. Eating healthy and living healthy is ultimately about what works for you, and my book will help readers find that balance, "says Khatri. When asked what the readers should take out of the book, she replies, "I want my readers to feel empowered to take control of their own health. I want my readers to make informed, healthier choices so they can feel good about themselves. "You can find more information about the book at https://www.balboapress.com/de/bookstore/bookdetails/822276-think-healthy-choose-healthy
"Think healthy, choose healthy: Make healthier diet and lifestyle decisions through the holistic approach of nutrition and Ayurveda"

From Varsha Khatri

Hardcover | 5.5 x 8.5 inches | 142 pages | ISBN 9781982265458

Softcover | 5.5 x 8.5 inches | 142 pages | ISBN 9781982265465

E-book | 142 pages | ISBN 9781982265472

Available on Amazon and Barnes & Noble
About the author

Varsha Khatri is a trained nutritionist, senior yoga teacher, Ayurveda health specialist and holistic health educator. She holds a Masters Degree in Holistic Health Education with a major in Holistic Nutrition and a Bachelor's Degree in Physiology and Health with a major in Maharishi Ayurveda. She has spent over a decade helping others achieve their health goals through her holistic and empowering approach that is unique to her skills. Born in San Diego, she now lives with her husband and two children in the greater London area, where she heads Illuminated Health. She loves spending time with her children and getting them excited about many of her wellness activities such as yoga and cooking. Aside from yoga and meditation, she loves reading, walking, painting, spending time outdoors, and crocheting. She and her husband enjoy living by example for their children by making healthy choices within their own family diet and lifestyle. Visit her website illuminatedhealth.com. She can also be found on Facebook and Instagram: @illuminatedhealth. She runs an online community group on Facebook: Healthy Living with Varsha that anyone can join.
Balboa Press, a division of Hay House, Inc. – a leader in the publishing of products that specialize in self-help and the mind, body and soul genres. Through an alliance with the global leader in self-publishing, Author Solutions, LLC, authors benefit from the leadership of Hay House Publishing and the benefits of the self-publishing model when it comes to going to market. Visit balboapress.com for more information. Call 844-682-1282 today to get your book published on Balboa Press.
Share articles on social media or via email:
Read More Now