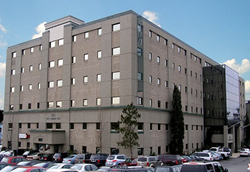 Each patient's needs are unique and their treatment will always be treated as such. All of our patients receive the time and attention they need while being cared for in this office … no exceptions.
WOBURN, Mass. (PRWEB)
07 May 2019

Woburn Chiropractor Michael Pendolino, DC of North Shore Spine & Rehab, is pleased to announce the brand new website design. The chiropractic clinic's website is designed to help patients find useful information about their health, to get in touch with the chiropractor, and to easily book appointments or contact the practice.
Woburn chiropractor Dr. Michael Pendolino is committed to enabling his patients to lead healthy and active lives. At North Shore Spine & Rehab in Woburn, MA, Dr. Pendolino incredibly passionate about imparting the knowledge and resources to each of his patients to take control of their health.
Dr. Pendolino and his team offer patients a non-surgical alternative for healing pain and injury. North Shore Spine & Rehab values ​​the health and wellbeing of our patients and emphasizes their long-term recovery at our Woburn Chiropractic Clinic. Michael Pendolino, DC, takes a holistic approach by not only addressing each patient's symptoms, but also examining the underlying causes of their pain and injuries. He uses state-of-the-art equipment and treatment therapies to provide appropriate care for each patient.
Dr. Michael Pendolino is constantly striving to improve and update his knowledge in his necessary areas. The amazing care from the entire North Shore Spine & Rehab team since its inception more than 20 years ago makes the practice one of the most sought-after chiropractic centers in Woburn, MA.
North Shore Spine & Rehab offers specialized care including chiropractic care, spinal decompression, weight loss through NutriMost, physical therapy, acupuncture, acupressure, rehabilitation after car accidents and personal injury, compensation for workers, and more. Insurance is accepted in our office. We also offer convenient appointments during the day and in the early evening from Monday to Thursday and on Friday in the morning hours. Call us at (781) 938-9400 and our helpful team will make an appointment for optimal health and wellbeing!
Share articles on social media or via email: