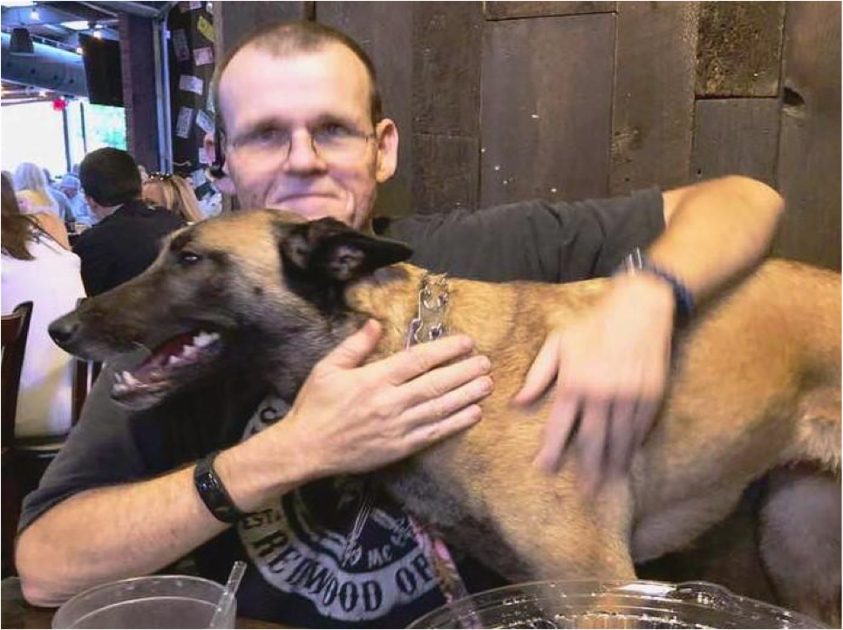 When accidents happen along the Rim Country highways, beloved pets are often missed when they run off the scene. The forest swallowed her.
After 19 days in the forest outside Heber, it seemed unlikely that a former K-9 police would be found following a fatal vehicle accident.
But this is a story of hope and perseverance. From a small group of dedicated volunteers battling blizzards, freezing temperatures and gusty winds, all of whom hope to find Nushka.

On January 11, Nushka disappeared after the vehicle she was driving in crashed on Highway 377 between Holbrook and Heber.
Nushka's owner, James Stephen "Steve" Bemies and girlfriend were driving south when the vehicle pulled off the road, hit a culvert and overturned.
Bemies died on the scene. Bemies' girlfriend suffered serious but not life-threatening injuries.
Nushka was either ejected from the small SUV or crawled out of the wreckage in the accident.
The tow truck crew and the Arizona Department of Public Safety soldiers failed to catch Nushka, and she was last seen running southeast from the crash site.
Nushka, a 5-year-old Belgian Malinois woman weighing 65 pounds, is a retired K-9 police officer who sniffs drugs. She retired early from her police career and was adopted by Bemies.
On the evening after the crash, the Humane Animal Rescue and Trapping Team (HARTT) went to great lengths to find Nushka and return to Bemies' family, who live in Arkansas.
HARTT, Inc. is an Arizona nonprofit that voluntarily tracks lost pets, homeless dogs, and homeless cats.
"Getting these animals to safety often requires exceptional patience, special strategies, skills and equipment, as well as time and resources," said Brent Reed, HARTT Rim Country Volunteer. "The work of HARTT is financed by donations from the animal-loving community."
Beth Buchanan, HARTT Rim Country Team Leader, contacted the Arizona DPS and the Navajo County Sheriff's Office, both of whom had a particular interest in finding Nushka because of their police backgrounds.
HARTT volunteer Alison Webb took charge of the case on site, supported by HARTT volunteer Lori Guyman Walker.
Webb and Walker set up a food and water station with several of their owner's fragrances, as well as Nushka's own blanket, which was monitored by a behind-the-scenes camera connected to a cellphone in hopes that Nushka would return to the crash site.
But photos showed she never returned.
Webb, Walker, and Gail Johnston, a local independent dog rescue worker from Overgaard, drove long hours on the ranch's dirt roads, searching for and hanging flyers on the freeway and in nearby communities like Holbrook, Snowflake, and Heber-Overgaard.
Reed joined the search on January 18.
"We searched neighboring properties of the historic Aztec Land & Cattle Company, known as the famous Hashknife Outfit, as well as the Rocking Chair and DeSpain ranches. The ranchers kindly gave access to their private roads and properties, "he said. "We just didn't get any breaks for the first few days until a local Snowflake nature lover named Trent Ault reported that on January 20th he spotted a dog that matched Nushka's description and walked down Wind Farm Road going east and then Heading South Highway 377 is about 3.5 miles northeast of the crash site. "
Trent shared GPS coordinates from the sighting.
"This was really the big break we needed to let us know that Nushka is most likely still alive and in the area," said Reed.
Volunteers set up a food and water station in the area and searched the area for several days until a blizzard struck northern Arizona on January 24th and 26th.
"While this seemed bad news for Nushka, I was encouraged that the fresh snow would easily show new tracks," Reed said.
Reed returned after the storm and added a can of smelly wet dog food to the bowl of dry snacks at the feeding station.
As he drove away and returned to Highway 377, he spotted a dog running along the fence line.
"Oh my god, there she was! You can't imagine my excitement when I saw them trotting southwest along the fence, "he said.
Not wanting to scare her, Reed parked and hoped she would run to the truck.
She turned and ran away towards the feeding station.
Reed followed but lost sight of her.
Three hours later, the game camera at the feeding station recorded Nushka eating the wet dog food that Reed had placed.
The next day, Johnston brought out a trap that HARTT volunteer Mimi Santos Hadden had brought up from Phoenix.
Johnson and Reed set up and baited the trap under the guidance of Webb, Buchanan and Cheryl Naumann, founders and president of HARTT.
"We knew we had to get it right the first time, because if the trap stumbled on a dog as smart and hideous as Nushka before it went all the way in, we probably wouldn't get a second chance." , he said. "And the baiting and positioning of items that carry their owner's scent and their own scent had to be done just right in order for them to be effectively trapped."
Johnston settled down on Wind Farm Road about a mile north and agreed to stay the night to watch the trap.
Reed drove back to Nushka, who had driven east off Highway 377 along the fence line where the food station was.
"My strategy was that my presence there would cause her to return east to the food station if she followed that fence west toward the freeway. We really wanted to keep them in the area to give the trap a good chance, "he said.
While they waited, the wind rose to over 40 miles per hour and brought in a blizzard of sleet and snow as it got dark.
Reed was given a hotel in Holbrook for the night, but Johnson "was determined to stay and weather the storm, even if that meant she would be huddled in her truck shivering all night." Fearing for her safety, her husband drove out of Overgaard to stay with her.
Back in his hotel room in Holbrook, Reed was monitoring the rearview camera, but ice was blocking the lens.
"We couldn't deploy the trap in these weather conditions without remote photographic surveillance. If Nushka were trapped without us knowing and being able to react quickly, she would likely freeze to death. "
Johnston and her husband disabled the trap.
The next day, January 30, Reed went to Holbrook to pick up supplies to de-ice the camera, including chemical hand warmer packs. He also got liquid smoke dripping down a path to the trap and "some nice, greasy, smelly gas station hot dogs, as suggested by Beth and Cheryl, from the Maverik grocery store to spice up our food in the trap."
After the camera worked, Reed returned to Payson while Johnston resumed her post on Wind Farm Road.
Reed said he hadn't been home in more than an hour when his phone rang, indicating that motion-detected photos were trapped. Shortly after noon, Nushka was trapped.
"Despite all the odds, we saved our beautiful girl after she survived 19 days in the wilderness and extreme weather. We were all overjoyed and had happy tears everywhere! "
Nushka was being held at the Holbrook Humane Society until Tuesday when Bemies' family picked her up.
"Nushka will soon be returning to Arkansas with Trey Bemies, Steve's son and Trey's wife, at their home in Mountain View, a small town in the Arkansas Ozarks," said Reed. "All of us at HARTT, as well as our extremely helpful colleague Gail Johnston, hope that sweet Nushka will lead a long, happy, healthy and safe life with her family. We are all proud and grateful to have contributed to this happy ending. "
For more information about HARTT or to make a donation, visit azhartt.org.