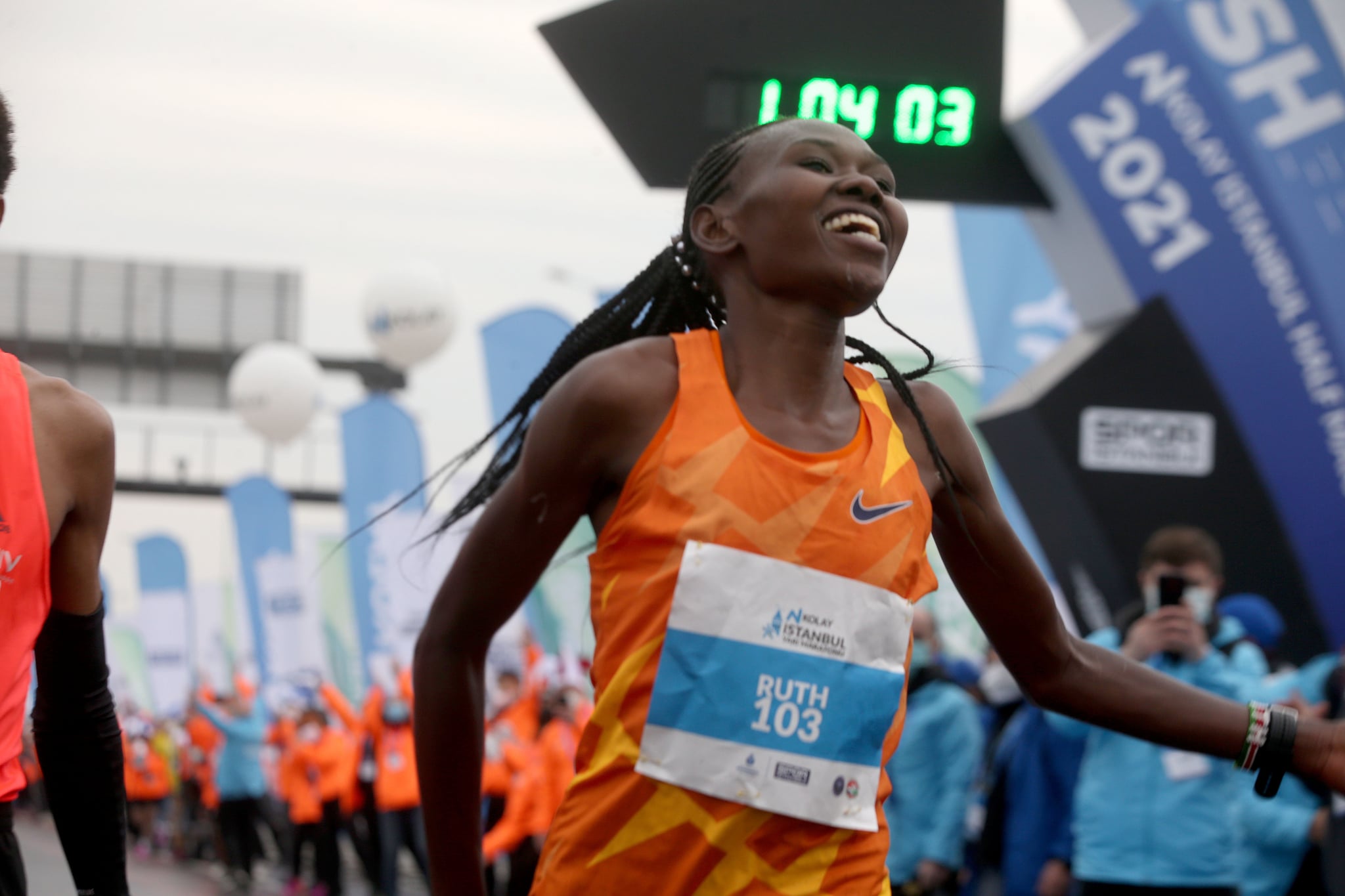 Kenya's Ruth Chepngetich ran into the history books at the N Kolay Istanbul Half Marathon on Sunday, breaking the women's half marathon world record with a lightning fast time of 1:04:01. We did the calculations and it comes out to an average pace of 4:53 per. Miles (!) Over 13.1 miles. Chepngetich sprinted just past the previous time of 1:04:31 set by Ethiopia's Ababel Yeshaneh at the RAK Half Marathon in 2020, claiming the record by a solid 29 seconds. (Chepngetich's record is still being ratified by officials.)
And based on Chepngetich's reaction at the finish line, she knew she had crushed it. The 26-year-old runner jumped through the belt, lifting her arms in triumph before collapsing, and she could not wipe the smile off her face as hugs and festivities began. "I'm really happy with this amazing result," she said afterwards World Athletics. "The world record is something I've been dreaming of for some time and I'm so happy to do it on the streets of Istanbul."
Remarkably, Chepngetich's record was not the only impressive performance that came out of the race. With Chepngetich, second place Yalemzerf Yehualaw from Ethiopia and third place Hellen Obiri from Kenya marked the race for the first time in history that three women have run a half marathon in under 65 minutes. And Obiri did it in his first ever half marathon, which is another record: the fastest half marathon debut. Do you have all that?

To sum it up: female runners set three records in Istanbul over the weekend, with Chepngetich leading the way with a brand new half marathon record. Who will be the next to break it? With the blistering pace of women's races recently, we may not have to wait long to find out.
🇹🇷 first world record was broken in Turkey!
These moments when Ruth Chepngetich 🇰🇪 broke the world record in the Istanbul Half Marathon! 👇
🎙️ "Ruth Chepngetich! 1:04:01, the world record has arrived! The world record in Istanbul!" pic.twitter.com/Y232NjhKxc
– TRT SPOR2 (@ trtspor2) April 4, 2021