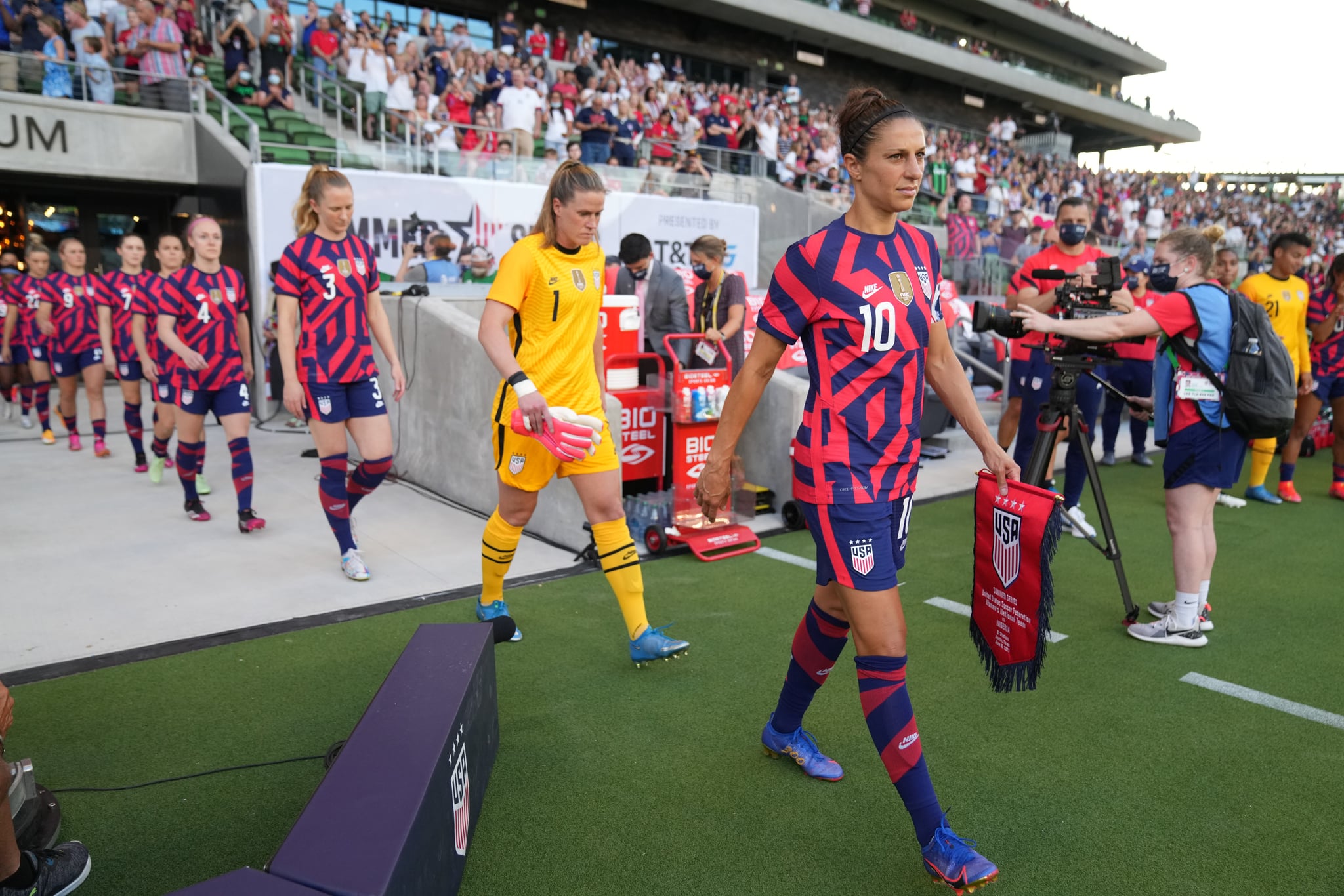 "E-qu-al salary! E-qu-al salary! E-qu-al salary!"
It was the song that rang out on July 5 at a stadium in my hometown of Hartford, CT, where the U.S. Women's National Team (USWNT) played the final game of their Summer Sendoff series. It may not be the song you would expect from a sporting event, but it has become common at USWNT matches in the more than two years since players sued the US Soccer Federation (USSF) citing gender discrimination and unfair pay.
The American women make a strong argument for increased wages. They have not lost a match since taking a stand against the Federation in March 2019 and even won a fourth World Cup later that year. Now they are trying to do something that has never been done before – win back-to-back world championships and Olympic titles – while the American men's team did not even qualify for the Tokyo Games. In fact, men have not qualified for the Olympics since 2008, while women's teams have competed at every Olympics since the sport's debut in 1996, winning a medal in five out of six appearances. Despite their success, USWNT's quest for equal pay stands still, and as a fan, I find myself in more ways than one.

Despite their success, USWNT's quest for equal pay stands still, and as a fan, I find myself in more ways than one.
That game in Hartford – a friendly against Mexico – was full. Halfway through the match, the advertiser said we had broken a record with 27,758 participants. My younger sister and I, now retired from our own football careers, sat between blocks of football teams in elementary school and middle school with the same dizziness as the young girls around us.
In so many ways, I grew up with the women in USWNT. When I got my first set of goalie gloves after making a premier team, I asked my parents for the same ones that Hope Solo was wearing. I remember going to football tournaments and proudly buying Megan Rapinoe posters and Alex Morgan jerseys, never thinking about checking out the Lionel Messi or Cristiano Ronaldo items. It's not that Messi and Ronaldo are not talented footballers – it was just that when it came to football, I had all the inspiration I needed from American women. I was lucky to have female role models who were undoubtedly good at their sport. But as I got older, I also became aware of the inequalities and discrimination that women face, including the list of athletes I had come to admire so much.
In 2019, everything I had seen on and off the field seemed to indicate that a decision in their favor was inevitable. I saw USWNT win gold at the Olympics in 2008 and 2012 and then became world champions in back-to-back in 2015. A woman ran for president in 2016 and I witnessed a national conversation on women's issues that did not look like anything I had seen before. Progress was made and USWNT was at the top of their game. Why should they at least not get equal pay?
Unfortunately, USWNT's path to equal pay has been anything but easy. In March 2020, a full year after the entire 28-player list signed the class action lawsuit, USSF lawyers argued that women's games require less skill than men's, a slap-in-the-face defense that got a protest from players and eventually forced the president for the USSF, Carlos Cordeiro, to resign. So in May 2020, the team and their supporters learned that their case for equal pay was dismissed. It was so long since these players and this community had experienced a loss.
They are role models, activists, and athletes who carry a federation on their backs that refuses to give them the respect they deserve.
While the USWNT reached a partial solution on unfair working conditions in December 2020, they are still in the process of appealing the decision to equal pay. The team brief that begins the appeal process is expected on July 23, just two days after their first match at the Olympics in Tokyo. The convergence of this legal battle and their participation as the sole representative of American football at these Olympics speaks to the tension that USWNT has had to navigate since 2019. They are role models, activists, and athletes carrying a federation that denies the back. to give them the respect they deserve.
Since the trial, American women have turned into more than just football players, something that is often the case for people with marginalized identities. Female athletes and especially BIPOC athletes have a long legacy of activism of which USWNT is a part. Many of the players have been outspoken advocates of Black Lives Matter and LGBTQ + issues in addition to their fight for equal pay. And who could forget that Rapinoe said she was not "going to the White House" while Donald Trump was in office?
Throughout my years as a fan, I have seen USWNT make many incredible games on the court, but what I am most proud of is their refusal to let women's sports be devalued. They still have a lot of lawsuits ahead of them, but the American women have proven to be tough advocates in addition to some of the best football players in the world. When I sat in the crowd at their last home game before the Olympics and saw men, women and most importantly young girls singing about equal pay, I was reminded of yet another popular USWNT cheer: I think we will win.