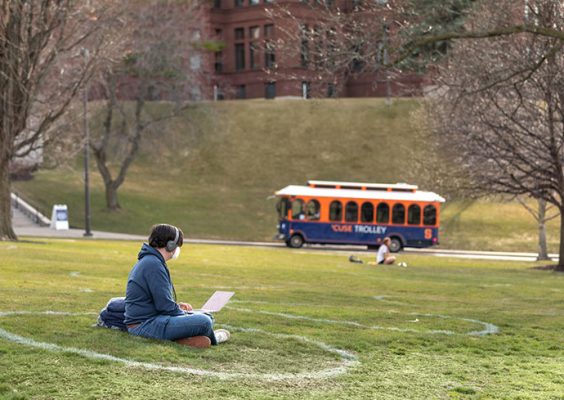 Since opening, the Barnes Center at The Arch has taken a holistic approach to health and wellness. But what does "holistic" mean and how can the Orange Community support holistic health and wellbeing in their daily lives, even as we face the COVID-19 pandemic?
For those at university, strict hygiene practices and keeping the Stay Safe promise are at the forefront of all thoughts, but there are additional components of health and wellbeing that can affect general wellbeing that should also be at the fore. The Barnes Center at The Arch recognizes that holistic health and wellbeing focus on the individual and treat every aspect of the human experience – mind, body, spirit, and community – equally. Through the lens of the Barnes Center, health and wellness is a multi-faceted journey – a unique and ever-evolving experience for each student. With a holistic lens, the Orange Community's health and wellness team aims to provide an understanding that the various aspects of these human experiences are interrelated.
To enhance the student experience and use this knowledge as a catalyst, the Health and Wellness team began laying the groundwork for integrating the Barnes Center into The Arch Wellness Wheel. This incorporates the dimensions of wellbeing and an inner core of diversity, equity, inclusion and accessibility to help students discover and grow what health and wellness mean to them on a personal level.

The Barnes Center at The Arch Peer Educator, Mars Murray '20, is a student who uses daily holistic health and wellness practices to help alleviate the stresses of university life. "When you're struggling to balance classes, extracurricular activities, employment, and more in such a draining time, it can be easy to forget the value of your health and well-being," she says. "I am extremely overwhelmed at times, but I always try to collect a little more energy to practice mindfulness activities like yoga or journaling. Sometimes you forget to take care of yourself and that's fine, but we have to try our best to take our time so as not to get completely overwhelmed and get stuck in a loop. "
The Barnes Center supports student advancement and unique health and wellness trips, offering personal and virtual opportunities that combine holistic health and wellness. Some of the resources highlighted below are hosted on the wellness portal. If this is your first time using the Wellness Portal, please visit the Barnes Center on The Arch website for detailed instructions.
Wellness Leadership Institute
College is a stressful time. It can be completely overwhelming to balance schoolwork, internship applications, and relationships while adjusting to independent living. The Wellness Leadership Institute series of workshops hosted on the Wellness Portal offers something for everyone and is a dedicated and convenient way to make life and thrive as a young adult easier. In personal, virtual live or video workshops, valuable skills for life in college and beyond are imparted.
Year-round workshops cover all dimensions of wellbeing and include presentations on topics such as "Career vs. Profession: Why the Difference Matters", "Expressing It Bluntly (Cannabis 101)" and "Managing Stress" to name just a few. Students who attend at least one workshop in each of the dimensions of wellbeing will receive a graduation medallion and certificate. Often this can be achieved within one semester. Faculty and staff are invited to explore ways to include workshops in classes, groups, and more.
Sanvello (stress, anxiety and depression management) mobile app
Since the pandemic began, many have noted an increase in feelings of loneliness, fear, insecurity, and more. Practical and with free premium access, the Sanvello mobile app offers support for stress, anxiety and depression management. The resources in the app are based on cognitive behavioral therapies and mindfulness tactics such as daily mood check-ins, guided or solo meditations, guided wellness trips and much more. Use your Syracuse University email address (ie @ syr.edu) to get started today!
EAT-SLEEP-MOVE-BREATHE challenge
The Barnes Center at The Arch encourages students to incorporate holistic health and wellbeing into their daily lives. A variety of self-care programs and services are offered in four categories: nutrition, sleep hygiene, physical activity, and mindfulness. Participating students have the opportunity to earn up to 15 points in different challenge categories. Whoever earns 15 points wins the Barnes Center Swag!
Safer Sex Express
It is important to have accurate information and supplies to keep sex safe. Safer Sex Express is a free, discreet sexual health ordering service that enables Syracuse University students to make safe and proactive sexual health decisions. Free Safer Sex Express orders offer a variety of options, are discreetly packaged for privacy, and students can choose between dorm pickup and delivery options.
Pick-up locations include the Barnes Center in The Arch across from the pharmacy, which has been newly expanded into the lobby of the Goldstein Student Center on the South Campus.
Virtual retail pharmacy
In addition to prescriptions, the Barnes Center in Arch Pharmacy also offers a virtual retail service available to the Orange Community. The retail virtual pharmacy hosted on the wellness portal has a wide variety of common, over-the-counter, and general health and wellness items. Online orders can be picked up within two to four hours of placing your order. The highlights of the options available include the following. Basic cold / flu supplies
Hand sanitizer
Personal hygiene items
Sanitary products
And more!
For more holistic health and wellness options, visit the Barnes Center on The Arch website. For questions or to request accommodation, please email the Barnes Center at The Arch at BarnesCenter@syr.edu or call 315.443.8000.
Written by the Department of Enrollment and Student Experience Intern Cecelia Kersten '23, SI Newhouse School of Public Communications.
Read More Now