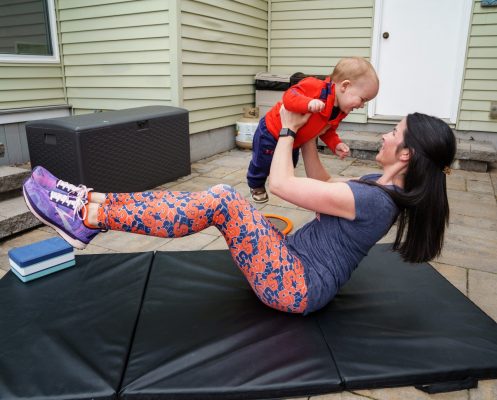 As the Wellness Coordinator in the Office of Human Resources, Kim DeStefano '05 is motivated by a unique goal: to help faculty and staff get and stay healthy, whatever that means to them. DeStefano is half of the two-person team behind the university's wellness initiative, which offers workshops, challenges, educational opportunities, programs, and resources to empower employees to make decisions and make changes that promote balanced and healthy lifestyles.
Virtual group fitness challenges that DeStefano conducts through Microsoft Teams have proven particularly popular during the COVID era. Dozens of faculty and staff have teamed up over the past year, under the guidance and relentless encouragement of DeStefano, to work on their cardiovascular fitness (jumping jacks) and strength (planks and core exercises). She is currently facing the challenge of processing up to 50 burpees within two weeks.

"We've had great feedback on group fitness challenges, especially when people don't have that many personal connections," says DeStefano. "Employees appreciate the connection with others who have a common interest – fitness – and the motivation that I provide, while building their physical strength."
Through home videos with frequent cameos of her dog Brutus and her young son Asher, DeStefano demonstrates each exercise with varying degrees of difficulty and optional modifications so that teachers and staff of all fitness levels can participate. "I want participants to experience the physical benefits, but more importantly, make them feel good, fully participate, and have fun along the way," she says.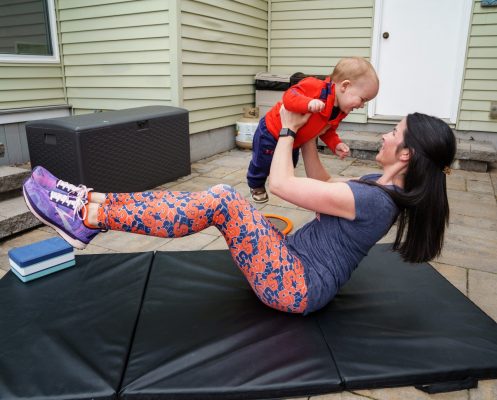 "Kim is an integral part of the success of the Wellness Initiative program," says Gail Grozalis, director of Wellness and the other half of the Wellness Initiative. "She's professional, knowledgeable, caring, and exudes positive energy. She shines through the meaningful connections she makes with our attendees."
The wellness initiative focuses on a holistic and multidimensional approach to wellbeing and offers much more than just physical fitness for teachers and staff. Since DeStefano and Grozalis became certified health and wellness trainers in 2019, they have renewed their commitment to offering various programs that, in addition to exercise and recovery, also include mental and emotional well-being, stress reduction, work-life balance, financial well-being and relationship building, including healthy eating .
"Promoting physical activity and good nutrition will always be part of our job, but I think it's great that we've expanded beyond that," says DeStefano. In April, the Wellness Initiative ran a weekly guided meditation series, two sessions by Move. Break. Inhale – 25 minutes of stretching, meditating, and deep breathing – and a series of bullet journaling workshops offered by an outside expert in positive psychology.
DeStefano began her journey with Syracuse as a student at the School of Education after earning a bachelor's degree in health and exercise sciences in 2005. Her interest in health and wellness came from her time as a soccer player in high school, where she encountered injuries, surgery, and time in physical therapy.
"I started my studies with the idea of ​​getting my DPT [doctor of physical therapy]However, over the course of four years, I became interested in so much more than just physical therapy, "says DeStefano. "I took nutrition classes and studied psychology, which is where I started learning how our minds work. I knew I wanted to do something to take care of people and help them feel their best. "
Upon graduation, DeStefano embarked on a 10-year career with the cardiac rehabilitation unit at St. Joseph's Hospital as an exercise physiologist. He conducted patient education and stress tests, and wrote exercise prescriptions for patients recovering from major cardiac events. She was ready for a change and had her alma mater in mind for career opportunities where she could grow and develop with a larger and more diverse organization. After spending time in the university's office for special events, she landed at the Wellness Initiative, where she developed a real passion for wellness in the workplace and keeps the university staff healthy and engaged.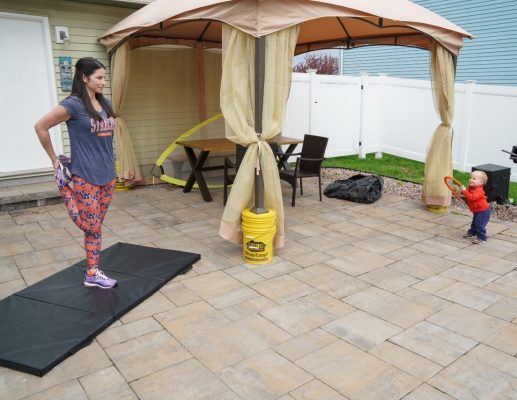 As a mother of two young children, the final year of remote working has brought many challenges or growth opportunities, as the always optimistic DeStefano could describe. It became the new norm to work odd hours on children's schedules, napping, and feeding schedules with conference calls and work assignments. Her husband Aaron, who works a night shift, was able to rearrange his work and sleep schedules if necessary so DeStefano could conduct her programs and workshops, and they were also fortunate enough to have support from the extended family to help with childcare .
"I'm pretty sure my two kids have appeared on every call and in all of my challenge videos," says DeStefano. "It was definitely difficult at first because I'm sure it was for everyone, but over time we just went along with it and adapted. Some days have been a struggle but my only concern is to stay positive. Work always gets done and I've been lucky enough to be home with my family all the time. "
When it comes to her personal wellbeing, DeStefano stays active by keeping up with her little ones and exercising at home – usually intense interval training or yoga. She does deep breathing exercises and is not afraid of finding downtime in front of the TV if her body demands it. The DeStefano family is all about healthy eating, lots of fruit, vegetables and whole foods, but everything in moderation. "I love ice cream," she admits. "So yes, we treat ourselves to something. I never want to withhold anything from myself or the children. "
Read More Now